Majestic Series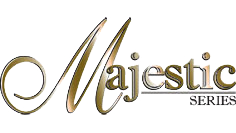 Want to feel like the king (or queen) of the castle? Add a Majestic Spa to your backyard landscape as your personal oasis of peace and tranquility. The Majestic series of spas are a high-end line packed with innovative features.
Enjoy the patented Ultra Wave Lounger, Hydro max and Roto-Massage seats only available through QCA Spas. Built for 5-8 people, the Majestic series offers real hydrotherapy, delivered through 2 hi-flow pumps, a manifold plumbing system and up to 118 jets! Enjoy the 2 speed air blower, air/neck jets, turbo massage and cascading waterfall. You will love the clever designs built for comfort, durability and safety.
Feel like the king of the world in this Majestic, rectangular non-lounger spa with a Hydro-Max™ seat walk in steps, contoured bucket seats, and a large foot well.
A spacious rectangular non-lounger spa with Hydro-Max™ and Wave-Max seats, 100 jets and seating for 8 - with an extra-large foot well for added comfort.
Looking for a different configuration? Check out these other Majestic Series spas.