Chlorine is the most commonly used disinfectant for swimming pools. Chlorine is available in many forms, and is an effective sanitizer and oxidant. Seasonal Specialty Stores recommends simple, easy to use New Water® automatic chlorinators.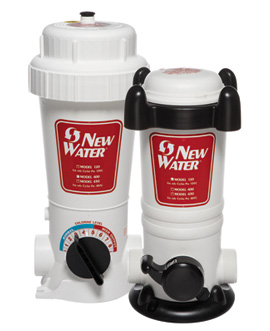 No Touch - No Smell - No Hassle
New Water® is all about ease and convenience with pre-filled chlorine pacs that eliminate the hassles of heavy buckets, smelly odors and accidental spills that can bleach clothing. These pacs last longer, too, reducing pool maintenance time.
New Water Cyclers - The Stingiest Sanitizers Made
The New Water Cycler minimizes chlorine use by trapping air in the upper portion of the pre-filled chlorine pac and reducing the erosion of chlorine into your pool to a trickle - unlike the torrent from bulk chemical systems.
Precise Tuning Means Greater Flexibility
The fine tuning dial on both the above ground and in ground New Water Cyclers can be adjusted for just about any variable such as pump run time, size of pool, bather load and weather.
Proven Convenience
Tens of thousands are in use. It works automatically, so you can set it and forget it for several weeks at a time (2-4 weeks is average), When the pac is empty, pop in another one. The pac is pre-filled, which means no touching or measuring of chlorine and the fumes are greatly reduced.
Manufacturer's Web Site: KingTechnology.com