Paradise Series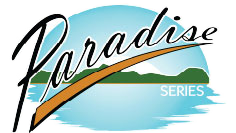 If only the best will do, you have now reached Paradise!
The Paradise series is our top-of-the-line spas: powerhouses of hydro-therapy.
From patented hydro massage seats including the Wave max, Hydro max and Roto-Massage, it is like having a personal masseuse with the added bonus of buoyancy and water therapy!
You will love the ergonomic design and spaciousness of these spas built for 6-8. The Paradise series offers up to 144 massage jets including programmable hydrotherapy seats, neck/shoulder jets and turbo massage.
Choose your ideal massage with state of the art topside controls, 3 hi-flow pumps, multi speed air-blower and a manifold plumbing system for even distribution. Every convenience and option is built into these spas.
Experience Paradise at home every day with the best hydrotherapy spa available from a company that has been building quality spas since 1966.
For information about models and options, Contact Us!
We designed our Paradise line of spas to offer the absolute best in aquatic therapy for those looking for the best hydro massage benefits.