Jewel Series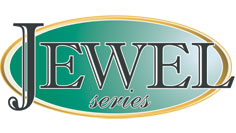 If you think finding the right spa is like finding a diamond in the rough – then you will love the Jewel series by QCA Spas! Jewel Series spas are very popular because of their innovative designs, varied hydrotherapy options, and other high end features.
Looking for a family-sized spa? The Moonstone Plus 3 shines as a spacious spa with seating for eight, featuring a cascading waterfall, foot massage dome and 82 massage jets.
Looking for something a little smaller? Then check out the other Jewels to find the best size for your needs.
All of our hot tubs feature the advanced technology and energy saving features you expect from QCA Spas, along with U.L. approval for peace of mind.
A popular sized spa featuring a stretched lounger, four contoured bucket seats, 53 jets and a cascading waterfall.
A spacious spa for 7 with contoured massage seats, 56 jets and a large foot well for added comfort.
A spacious spa that offers seating for 8 in a rectangular design with contoured bucket seats, 72 jets and an extra-large foot well for added roominess.
The Moonstone Plus 3 is a spacious spa for up to 8 family and friends, featuring many massage seating options, 82 jets, a foot massage dome and high performance pumps.
Gemstone Plus 3 is a roomy spa for up to 8 people. If you are looking for a favorite place to relax and entertain family and friends, this spa is just what you need.
Looking for something a little different? Seasonal can also order these QCA Jewel Series spas.