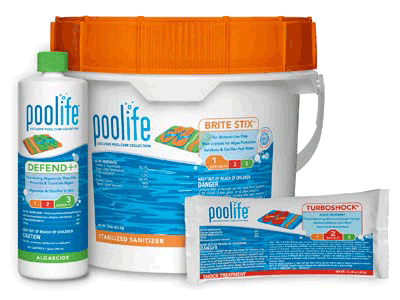 Three simple steps. One super result. That's the promise of the poolife Brite Stix System.
With this system, you now have access to a comprehensive program that doesn't just work harder, but smarter to offer long-lasting coverage for your water. Designed for multi- pool care defense and protection, the system benefits from the addition of poolife Brite Stix product (Step 1). This stick-based sanitizer clarifies, prevents algae and softens your water with a controlled delivery system for brilliant protection and clarity that can last up to two weeks.
It's a brilliant idea made even better with poolife's ClearCare TechnologyTM additive (CCTTM), for a clear difference you can see and feel.
Step 1: poolife Brite Stix sanitizer
Sanitize, clarify and prevent algae with this first and most important step in the entire system. Simply add stick(s) to your skimmer following the instructions on the label and let poolife® Brite Stix® sanitizer do the rest. (Sizes available: 4 lb. pail,11 lb. pail, 21 lb. pail, 25 lb. pail & individual 8 oz. stick)
Step 2: poolife TurboShock shock treatment
This product is used once a week to shock your pool with a powerful treatment that dissolves quickly and completely, working fast to kill algae and bacteria while destroying swimmer contaminants in your water.
Step 3: poolife® Defend+ algaecide
The third and final step makes use of poolife® Defend+ algaecide, a non-foaming product that not only treats and prevents green, black and yellow algae, but also clarifies your water.